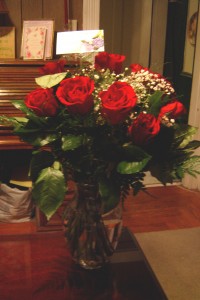 Obviously you survived another Valentine's Day. Are you feeling lonely because you didn't have anyone to share it with? Do you wish you could have received flowers like all your other lucky girlfriends? Or would you just be happy to find your man no matter what he ended up doing for you on V-Day?
I know how you're feeling because I was there too. Often, I would pick up flowers for myself to help me feel good, so I could simply enjoy their beauty. I always bought exactly what I wanted and imagined it was my man giving them to me.
Mario didn't buy me flowers this Valentine's Day, but I'm ok with that because he did make me breakfast in bed. He told me told me that any day could be Valentine's Day and we could celebrate any time and any way that we wanted. I told him that every day is Valentine's Day with him because I never know when he's going to surprise me.
He will often buy me roses 'Just Because' instead of for a special occasion, and to be honest I prefer that. It's so much more romantic and surprising. He's brought me to tears on many occasions with his thoughtfulness.
I know I can't send you all flowers individually, but I can share one of his gifts to me with you. In these roses lie his loving energy for me and my gratitude for him, which we now share with you.
Imagine the softness of the delicate petals on your skin. Soak up the scent of the freshly cut green stems, and the sweet aroma of the blossoms. Feel the tickly texture of the baby's breath on the palm of your hand as you arrange your bouquet. Can you feel the love? We are willing to share our love with you until you attract your own.
You must align yourself with love in order to attract it. Read my article below for other ways to help you Be the Love you are Looking for…because bringing love into your life begins with you. It's ok if you don't feel it yet. Baby steps are excellent, just decide to take your first step today by continuing to read on…
Be the Love you are Looking for…
I know it's challenging to think about feeling happy and in love when you might be feeling more closely aligned with sadness and loneliness. However, no matter how poorly you feel, I would like to suggest that you notice the times you do feel the presence of love in your life.
Begin with your pet or a child. Don't you just feel wonderful when you are bonding with a creature that gives you unconditional love? Go to a pet store if you don't have any pets and pick up a puppy and feel the softness of its fur on your cheek. My favorite is rubbing puppy bellies. I love how soft and warm the skin is. Or pick up a kitten and listen to it purr.
Visit a girlfriend whose kids you enjoy. Hold her baby in your arms and smell the fresh scent of its head, breathing in the wonder of this little being. Have tea with a little girl and let her be any princess she chooses. Then you choose the princess you want to be and relish the simplicity of enjoying the present moment. Play 'catch' with a boy and notice how proud he is when he catches the ball. Join him in his celebratory dance, no matter how silly it is.
Go horseback riding and feel the wind in your hair and the strength of the creature beneath you. Imagine that you'll bring your man to join you on a date – next time. The possibilities of what you could do to feel the presence of love in your life are endless. However, be certain to only choose actions that feel good to you. Allow yourself to experience life to its fullest now – before you find your man.
You attract to you whatever it is that you focus upon, and how you feel when you're involved in these activities matters more than what you choose to do. You do not want to have any feelings of guilt, sadness, or obligation. It's best if you feel joyful, at peace, and fulfilled. One thing I do to feel fun and full of love and joy is to put on some music and dance with my dog in my living room. My sister laughed so much at us – she wanted to try …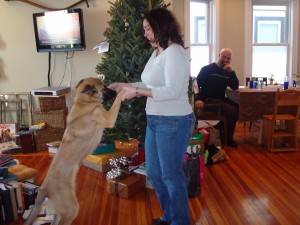 Anytime one of my clients is feeling down or depressed, I suggest they spend a few minutes outside of a women's shelter or volunteer to serve lunch at a soup kitchen. It's much easier to feel grateful for all the gifts you have in your life when you notice the tremendous struggles that others are experiencing. And for me, it opens the door to experience other emotions related to love, such as caring and compassion.
You have a roof over your head. You have clothes on your back. You have food in your belly. Choose to feel grateful for all the good things you do have in your life and you will attract more good things to you. When you are feeling full with gratitude, choose an inspired action to help someone else who is worse off than you. It could be as simple as sending a $20 bill anonymously in an envelope to a random person you choose out of the phone book.
There are five people in my office and we are performing an experiment this year to write down one unique thing we are grateful for each day. The first month is easy. For each month that passes, it gets more challenging to come up with something new every single day, yet it forces your mind to become more creative.
When my assistant complained that she couldn't write her husband's name down more than once, I told her to write down what she was grateful for that he did for her. For example, if she was grateful for him for giving her a foot-rub last night; she could write down that she was grateful for foot-rubs. Therefore, she has something new on her list, her mind was forced to have a more creative thought, and in her heart she's connecting with her husband more than once on the list.
I had my best year ever, the year I worked on this list for just six months. Imagine what I'll create this year when I double that effort? Are you willing to play along?
Your list doesn't need to be fancy, but it is important that you feel good about it. Decorate it with stickers or your own art work or an inspired photo you find online, or one that you took yourself. Don't wait until it's perfect. Start today and you can make it better as you go along. Join me in finding ways to feel good, and you will begin to feel the love in your heart for yourself, if you don't feel it already.
Loving yourself is a key component to Manifest Your Man®. Just keep focusing on feeling good and become filled with the love you are looking for. Give yourself a great big hug and imagine your man coming to you, because I promise he's looking for you already.