There are multiple ways to work with me, yet Individual Coaching, where you and I personally connect on an intimate and private level, is one of the most powerful choices you could make for your personal development and to bring your man closer to you more quickly.
Do you crave personal attention?
Are you short on time and want to assure that your needs are met on every single phone call?
Do you desire a private forum where you feel safe to share your innermost feelings?
Have you been searching for so long you feel you're only one bad date away from being single forever, and this is your last hope for finding love?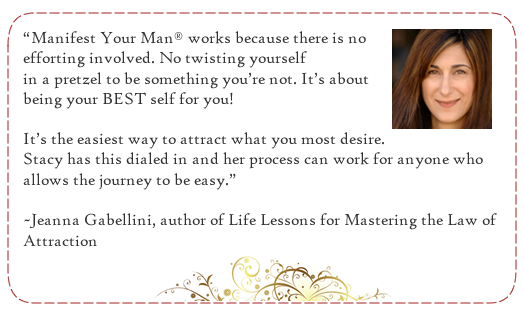 In our private sessions I will walk you through my ten-step proven process one level at a time, and we will not move forward until you feel you have mastered each section. Manifest Your Man® is more than just finding a man to fall in love with. We will play together until you love yourself so much that your man will be irresistible to you. He won't be able to keep from being drawn to you. And he will be exactly what you are looking for, the ideal match for you.
As you become the full expression of the woman you are meant to be: free of all self loathing, doubt, insecurity, and fear, you will begin to enjoy your life more completely. You will:
Choose to do things that fill you with joy
Develop healthy boundaries with family members
Learn how to love and care for yourself as the incredibly valuable person you are.
Become more confident in your decision making skills because you will have started choosing the company of healthier minded men.
Begin to feel safe in your own skin and discover how to embrace your amazing nature.
See that it is possible to allow love into your life and not get hurt.
I went from feeling at the lowest point in my life to feeling hopeful after just one private session with Stacy. Stacy's style is incredibly comforting. I called her because I knew she would help me and one week later I feel happier than I have in my entire life!
JoAnne B. – Texas
Ready to find out more?
In your complimentary 20 min. Inner View session with me we will discuss
How long you've been trying to find love 
What some of your problems for attracting your ideal match have been in the past
How some of your beliefs could be getting in your way
What your hopes are
And…a series of next action steps for you to take
Are you ready to take the next step to
bring love into your life?
Email me today to set up your
Complimentary Inner View Session.