One day in May 2005, I was five months away from being married to my ex-fiance'. Then, after fours years of being together, he woke up and said to me that he did NOT want to be married. I was nearly 37 years old and was devastated to think that I may never have a family to call my own.I spent the next 6 months grieving the relationship and mending my broken heart. Then, through extensive research and testing my methods (on myself first), I developed my Manifest Your Man® process. This ultimately led to me manifesting my man, Mario, three years ago.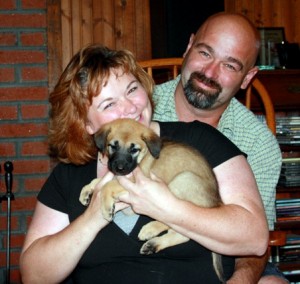 Mario and I have an AMAZING relationship. We have created a wonderful family with our puppy Roscoe. We love and respect each other, we support each other's dreams and desires, our love life is incredible, and best of all the relationship is EASY!!
To be perfectly honest, we do have challenges, as every couple does. However, when you are with the RIGHT partner for YOU, the bumps in the road become very minor. Our 'little blips' have become examples for those around us on how to process relationship issues in a healthy, constructive, and respectful way.
And, we have never been more excited about life and love! My "ex" did me the biggest favor that day in May and I'm sure he is not even aware of it.