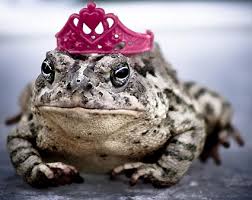 How many frogs have you kissed in your lifetime?  Mario and I have a joke that it took me kissing over 100 frogs to find him.  There's nothing wrong with kissing frogs, but why do women stay in mediocre or even abusive relationships?  Why do we settle for so much less than we deserve?
Times are changing but it wasn't that long ago when women were taught to be subservient to men.  We were expected to cater to a man's needs in the kitchen, living room, and bedroom.  Even though women have elevated their status in society, this acquiescent behavior extends to the boardroom, even today, as we still aren't earning equal pay for equal work.
We were also taught not to speak up to our parents; therefore, many of us don't have a voice in relationships because we are often dating a person who reminds us of one parent or the other. If a man speaks up for himself he's considered confident.  If a woman asserts her position she's a Bitch.  Isn't it interesting however, that many men will not assert themselves in a relationship, but will make the situation so terrible that women's hands are forced to do the dirty work? Even if a man is making our lives miserable, many of us still stay in the relationship, why is that?
I believe there are many possible reasons we subject ourselves to relationship torture: [Read more…]