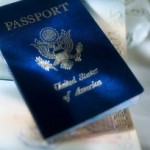 As I packed for my workshop in Toronto a day earlier than normal (Mario calls me 'Last Minute Lucy'), I realized, at 10:00 at night — two days before my flight –that my passport had expired.
Oh no! Now what was I going to do?
I stopped everything (because what's the point of finishing packing if I can't get through customs, right?) and went online to see what I could do.
Lo and behold, if I traveled within the next two weeks and had proof (which I did), I could go to to the Department of State's Boston office because they have the authority to prepare Passports on site.
Yes!
They also allowed me to use their 24-hour appointment scheduling service to schedule my appointment. So I did. The next available appointment was 8:30 the next morning.
Woo Hoo!
I had all the documentation I needed, except I didn't have any passport photos. I called CVS and Walgreens and their photo departments closed at 10pm. I was too late. I looked online for a 24-hour passport photo service, with no luck. [Read more…]